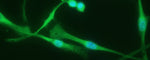 New F4/80 antibody for studying mouse macrophages
[Image above showing the labelling of mouse RAW 204.4 cells by immunofluorescence using IQF4/80 and anti chicken IgY conjugated to FITC. Nuclei counterstained with DAPI]
ImmuQuest has developed a NEW chicken polyclonal antibody IQF4/80 (product code IQ605) recognising mouse F4/80, which performs better than existing F4/80 antibodies in fluorescent Immunocytochemistry.
Product features:
Purified chicken polyclonal antibody raised against the mouse F4/80 antigen
IQF4/80 recognises an intracellular region of the mouse F4/80 molecule
IQF4/80 has been tested in a range of applications including immunofluorescence, immunohistology, ELISA and Western Blotting.
In immunofluorescence, IQF4/80 performs favourably against 2 well-known commercially available antibodies against F4/80, showing strong staining in RAW 204.4 cells.
IQF4/80 is supplied as purified chicken IgY (Product code IQ605) and is also available directly conjugated to either FITC or horseradish peroxidise (HRP)
Macrophages play a crucial role in innate and adaptive immune responses. In the mouse, one of the most widely researched and highly restricted macrophage membrane molecules is F4/80, a 160-kDa glycoprotein which is a member of the EGF-TM7 family of proteins.
F4/80 expression is heterogeneous and is reported to vary during macrophage maturation and activation. The F4/80 antigen is expressed on a wide range of mature resident tissue macrophages but is absent from macrophages located within T cell areas of lymph nodes and spleen. The antigen is also expressed on eosinophils and has also been reported to be weakly expressed on peripheral blood monocytes and subpopulations of dendritic cells. Apart from the restricted pattern of expression of the F4/80 antigen, the exact biological functions of the F4/80 molecule has remained elusive but recent studies suggest a role for F4/80 in peripheral tolerance.
Antibodies that recognise F4/80 have been widely used to identify and characterize mouse macrophage populations in a range of normal and disease tissues using a variety of techniques.
Click here for more product information
Further reading
Gordon S, Hamann J, Lin HH, Stacey M. F4/80 and related adhesion-GPCRs. Eur J Immunol. 2011 Sep; 41 (9); 2472-6. PMID; 21952799