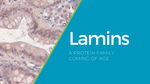 Lamins – A Protein Family Coming Of Age
Lamins are a family of type V intermediate filament proteins that are located primarily in the inner nuclear membrane. They polymerize to create the nuclear lamina. Like all intermediate filament proteins lamins contain a highly conserved α-helical coiled rod domain flanked by variable N-terminal head and C-terminal tail domains. The tail domains of lamins contain a nuclear localization signal and also contain an immunoglobulin-like fold motif. In contrast to cytoplasmic intermediate filament proteins, lamins contain consensus sites for mitotically active protein kinases, the phosphorylation of which directs the disassembly of the nuclear lamina during mitosis.
Lamins are encoded by three genes. In humans, LMNB1 on chromosome 5 encodes lamin B1, LMNB2 on chromosome 19 encodes lamin B2 and lamin B3 and LMNA on chromosome 1 encodes the A-type lamins, with lamin A and lamin C being the major isoforms arising by alternative RNA splicing that are expressed in most terminally differentiated cells.
Lamins A and C are identical for their first 566 amino acids and differ in their carboxyl-terminal tail domains. Lamin A is synthesized as a precursor, prelamin A, which contains a CaaX motif at its amino-terminus. This motif leads to farnesylation,  carboxymethylation and finally –aaX cleavage catalysed by the endoproteases RCE1 and ZMPSTE24 which cleaves 15 amino acids from the farnesylated cysteine to form mature Lamin A/C.  
Lamins associate with numerous proteins in the inner nuclear membrane, including emerin, and lamina-associated polypeptides such as LAP2alpha. In addition to their clear structural role lamins appear to serve essential functions in many nuclear activities, such as DNA replication and transcription. Mutations in A-type lamins and emerin have been linked to at least eight rare human diseases (so called laminopathies). These include muscular dystrophy, cardiomyopathy, peripheral neuropathy, lipodystrophy, insulin-resistant diabetes, liver steatosis, bone dysplasia, osteolysis, and premature ageing. It is notable that all of the disease linked lamin mutations have been found only in A type lamins. It is likely that mutations in B type lamins are embryonically fatal.
At Immuquest we are proud to offer one of the leading ranges of antibodies that recognise A type lamins, including disease associated mutant proteins and key proteins that interact with lamins. These are summarised in the table below:-
| | | | |
| --- | --- | --- | --- |
| Product code | Specificity | Clone number | Notes |
| IQ177 | Lamin C | Polyclonal | Lamin C specific antibody binding to last 8 amino acids not shared with Lamin A |
| IQ546 | Lamin A+C (R482W mutant) | 5H8-B4 | Mutant associated with familial partial lipodystrophy |
| IQ252 | Lamin A+C | Jol5 | Binds to epitope between AA 1-171 |
| IQ541 | Lamin A+C (R453W mutant) | 12A-2F5 | Mutant associated with Emery Dreifuss Muscular Dystrophy (EDMD) |
| IQ333 | Lamin A+C | Jol4 | Binds to epitope between AA 572-646 |
| IQ251 | Lamin A+C | Jol3 | Binds to epitope between AA 464-572 |
| IQ332 | Lamin A+C | Jol2 | Binds to epitope between AA 464-572 |
| IQ557 | Progerin | 13A4D4 | Binds to Progerin, a mutant of Lamin A associated with Hutchinson-Gilford progeria syndrome |
| IQ559 | LAP2alpha | 3A3 | Associates with Lamin A/C |
| IQ175 | LAP2alpha | Polyclonal | Associates with Lamin A/C |
| IQ562 | Nesprin 2 | K20-478-5 | Interacts with Lamin A/C and Emerin |
| IQ324 | Emerin | Polyclonal | Interacts with Lamin A/C, mutations lead to EDMD |